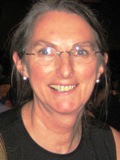 Q: What drew you to SRJC?
A: It was just a great opportunity to teach nursing in a clinical setting at the hospitals that I was familiar with.
Q: What inspired you to work in your chosen field?
A: I was an early nurse; I went to nursing right out of high school. In the end it's been a good career path. I think its more holistic than medicine.
Q: What does learning mean to you?
A: To me it means to be curious and to constantly ask questions, and to consider possible solutions and to be kind of playful with the material that I'm with — to constantly see if there is a different angle on it.
Q: What is the sound track to your life?
A: There is a heavy metal band in Germany called "Die Ärtze," and they've got very contemporary, sarcastic music. They're pretty funny.