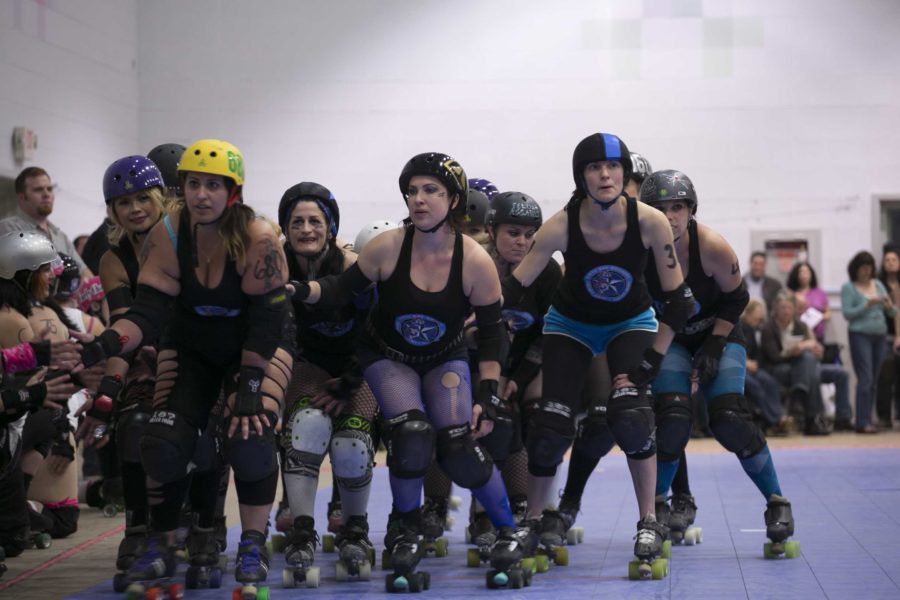 Joseph Barkoff/Oak Leaf
First-time bout attendee Jesse Anderson summed up the public perception of roller derby this way: "Basically, I was hoping to see some tatted-up chicks beat the crap out of each other."
While Anderson's sentiment stems more from 1960s televised bouts of National Skating Derby's "Roller Games," played on a banked track with players in revealing, spangled costumes and performing World Wrestling Federation style theatrics, roller derby struggled for media respect from its inception in 1935 with Leo Seltzer's Transcontinental Roller Derby.
More than 400 fans at the standing-room-only sixth season opening bout April 27 at the Santa Rosa Veterans Memorial Building showed plenty of respect, never mind intense devotion to the home team, despite the North Bay Bruisers' loss to the Sintral Valley Rollergirls, 177 – 122.
Throughout the rounds, even when the waning seconds ticked away, the sellout crowd frequently cheered and leapt to their feet as jammers "Lady Sparks" and "Butter & Jam" slid through the wall and past the opposing pivot position to score points.
"Penalties killed us," said "Sugar Snappy," playing the wall on the flat track. She added the team is undergoing membership changes this year, so the close loss stung less than expected. (Jammers can score dozens of points in a single two-minute round.)
Sugar Snappy, who puts maple syrup in her coffee, played other sports for years until she discovered and joined a roller derby team while living in Canada.
"There's definitely drama that happens, even in men's and co-ed's derby, because of the clash of personalities," she said. "If you have an organized and well-delegated league, you're able to utilize personalities in a positive manner."
Players' pseudonyms become more than alter egos, supplanting the roller gals' actual names. Confusion reigned when teammates' birth names were used to identify them during a conversation. Only "Ruthless Rita," "AK-47," "D. Enforcer" and similarly colorful monikers exist in the roller derby world.
Ruthless Rita honored her grandmother Rita, a competitive dance skater.
"It's not the same as roller derby at all," she said. "But I'd definitely say it's as challenging in terms of agility. She used to do a move called 'The Death Spiral.'"
All roller girls share an overriding sense of fun and sheer joy in the pursuit of their chosen sport, extending to participants of all ages.
Sonoma County Roller Derby's Junior League, which scrimmaged during the halftime break of the opening bout, accepts girls and boys between 9 and 17.
Former cheerleader "Str8 Jacket" took her Ego Breakers name from her playing style.
"It came from a friend's dream and it felt more like my personality," she said. "I'm really good at roller derby and I get pretty crazy when I'm out on the track, so I should be in a straight jacket."
At 17, she's in the last of her four years in Juniors, but Str8 Jacket plans to move up to the North Bay Bruisers, the league's B team.
"I use roller derby as therapy to get my anger out," Str8 Jacket said. "It's really good for me, and my parents see an improvement in my attitude."
"General Drama" entered junior roller derby through family connections (her stepmother is Lady Sparks) and moved to refereeing after injuries earned while skating backwards drew her father's concern.
"He said, 'Either ref and still skate or don't go out at all'," General Drama said.
The junior team stands at 11 as they continue to recruit so they can compete with a full complement of 14 players.
Both junior and regular roller derby suffer from misunderstandings in the public eye.
"The most common misconception," Sugar Snappy said, "is that we're all just really mean and hardcore." Two members of the North Bay Bruisers work for different counties in child welfare positions, a far cry from the sport's fanciful reputation.
"We might look rough and tough on the track," Butter & Jam said, "but we're actually really loving and supportive of each other."