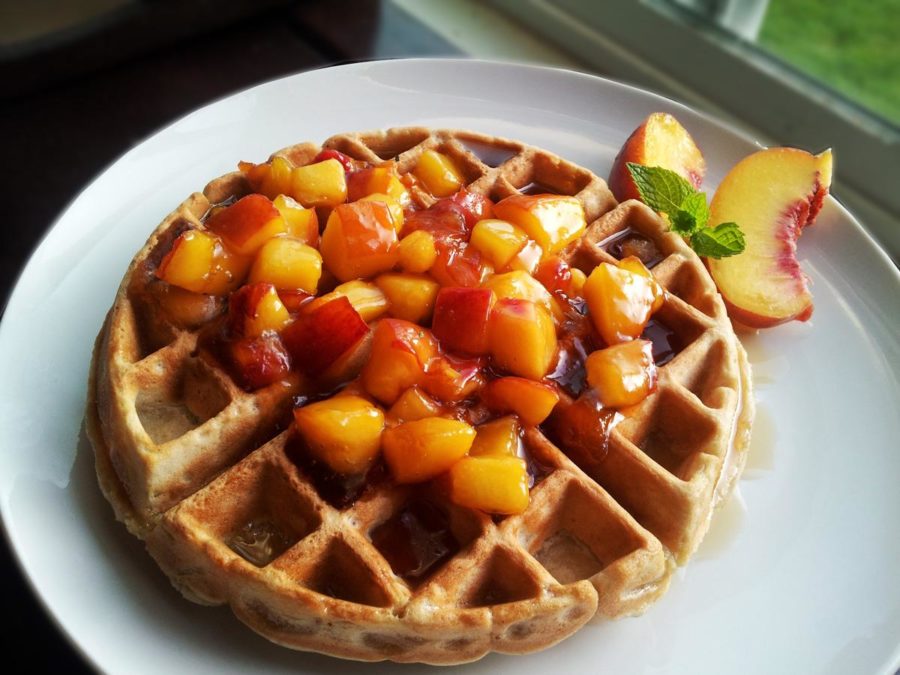 Most families create traditions around Christmas Day meals, but I've rarely heard friends wax nostalgic over a Christmas Eve dinner that can rival our family's choice of waffles.
My mother was nine years old when her mother, who we called Gammy, asked the perennial question, "What would you like for dinner?"
"Gammy couldn't think of anything for us to have," said Jony Corwin McQuiddy. "We had one of those old round waffle irons and she didn't make them very often."
So Mom jumped at the opportunity to choose something special.
"Then I wanted them again the next year and the next and the next," she said.
Sausage soon followed as another regular feature, "to make it more of a dinner type meal," McQuiddy said.
By the time she met and married my father in college, Bisquick became the standard waffle mix with cottage cheese and peaches added.
"When I was at Miami of Ohio, one of the side orders at the snack shop was peaches and cottage cheese," McQuiddy said. "I had never had that combination before. The peaches were ordinary canned cling peaches in heavy syrup. Now, the more common type that get canned are free-stone. Back then, it was very hard to separate out the peach pits, commercially. When you cut the peach in half, the flesh 'clinged' to the pit.
"Once I tasted that combination, I loved it."
While we often stick to the above menu, variants include the type of sausage (chicken-apple, etc) and when we canned our own peaches from Kauffman's orchard, which stretched for acres beyond our house in York, Pa.
Throughout my growing years, we always used the same rectangular waffle iron (a wedding present). One Christmas, Mom and Dad gave all the married, settled children waffle irons of their own, made by the Black Angus company.
Maybe the grandkids will inherit those Black Angus machines and our waffles on Christmas Eve tradition will carry on, as integral as the hanging of stockings and the reading of Clement Moore's "A Visit from St. Nicholas," before a roaring fire.
BISQUICK BASIC WAFFLES
-2 cups Original Bisquick mix -1 1/3 cups milk
-2 tablespoons vegetable oil -1 egg
Stir ingredients until blended. Pour onto center of hot greased waffle iron; close lid. Bake about 5 minutes or until steaming stops. Carefully remove waffle. Makes 12 (4-inch) waffles.