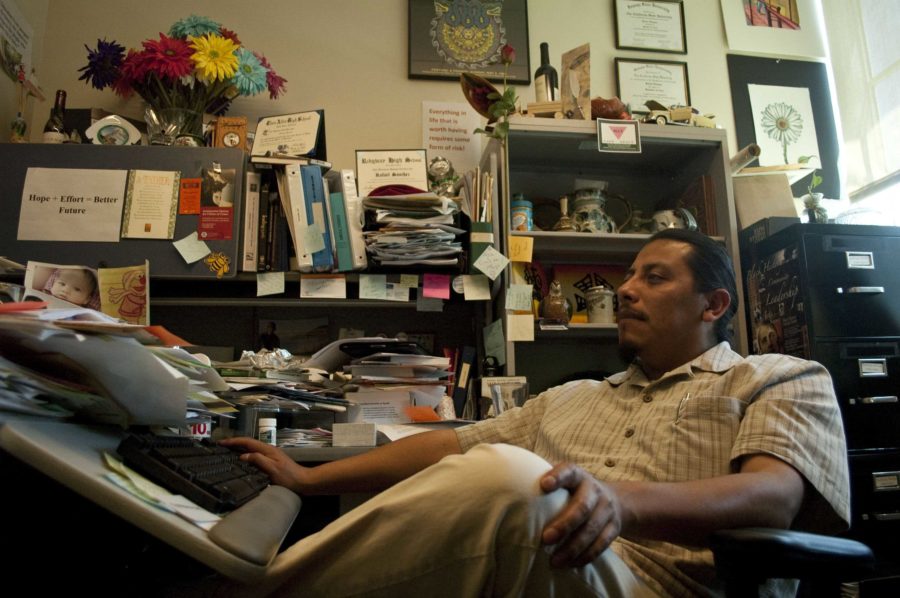 Mischa Lopiano
Rafael Vazquez, an EOPS (Extended Opportunity Program and Services) outreach specialist at SRJC, is an advocate for Latino students, a role model and a man with a unique, untold story.
As a child growing up in a village in Oaxaca, Mexico there wasn't a lot for Vazquez. "We didn't have anything," he said. "We would wear the same sandals every day, because we did not have enough money to afford shoes."
At 15 he arrived in the U.S. with his two brothers and was delighted to try a cheeseburger for the first time. "I was scared and very reserved so I chose not talk to anyone," he said, but his new environment was eye opening. He had arrived to a new place he would call home: Santa Rosa.
Going to Santa Rosa High School turned out to be a dreadful experience. He endured a lot of racism, had negative experiences with his peers and didn't understand why people treated him differently. One bully pushed him around in the hallway every time he saw Vazquez walking to class, and his German teacher didn't believe in his students' succeeding. His senior year he moved with his brother and sister-in-law to Arizona, where he finished high school a semester ahead of his peers.
Vazquez graduated at the top of his class with a 3.98 GPA and won a $7,000 scholarship to Arizona State. But a year later everything changed. On a Saturday afternoon his sister-in-law came home from a night of fishing, and told Vazquez that his brother had died from a gunshot wound.
"I was in shock, and it was hard to believe it was true," he said. Upon his brother's death, Vasquez returned to Santa Rosa to attend SRJC.
Vazquez's greatest inspiration was his brother because he had unselfishly given up the opportunity to graduate from the most prestigious university in Mexico so he could bring Vazquez and his older brother to the United States. "He took on the role of their father, being the oldest one," he said.
At the JC Vazquez earned five certificates in law-related courses including law enforcement, corrections and juvenile counseling. He has worked at SRJC as an EOPS Outreach Specialist for the past eight years. "Working with low-income students is the best experience that anyone can have coming from a place filled with poverty," he said.
Antonio Jacobo, a SRJC Bio chemistry major who has worked closely with Vazquez on his radio show "Lideres del futuro," (Leaders of the future) on KBBF Bilingual radio for the past two years, explained why Vazquez is such a helpful resource for students. "I think it's because he is willing to help, listen, motivate and talk to us with the truth. He notices when we're off track, tells us, but also acknowledges and supports us when we're on track," Jacobo said. "He has reminded us to stay humble, to think, take charge of our lives, but also help one another, which we so often forget to do."
When Vasquez received his master's degree in Interdisciplinary studies with an emphasis in education and Latinos, he included his brother in his thesis. He wrote, "Thank you for everything you ever did for us. You were not only a brother to us, but also a father."
Even though Vasquez works 70 hours a week, helping youth realize the importance of education is the secret to happiness for him. "Every time someone graduates from college and high school that makes everything worth it," he said.
He thinks living in Sonoma County is a great opportunity to work with many Latino and Latina students. "We must remember that 90,000 people go to bed hungry; there is still a lot of work that needs to be done in this community for everyone to get ahead," Vasquez said.
He is an active volunteer and speaker in the Latino Community. He provides students with resources and then lets them decide whether to use them. "I come from a communal society versus the U.S. society, which is an individual society. A communal society is where you should share what you have. Knowledge belongs to everyone not only you," he said.
When dealing with difficult students Vasquez has a simple suggestion: "You have to understand the population you're working with. You cannot get angry when someone comes with an attitude, and patience is key to do this type of work."
Before he retires, he hopes to "create awareness among people of color that education inside and outside of school is important."
Adalberto Silva, SRJC student who has known Rafael Vasquez since his senior year of high school, said, "At first I was hesitant to approach him, and now I see I was foolish. Thanks to him I have learned a lot, not only about school but also myself. I have met some people I would have never had a chance to if it wasn't for him, and I even got a job as a migrant education worker. I owe him a lot for believing in me and giving me the tools to be where I am today."
He is currently working on a career night for high school students, The M.E.Ch.A youth Conference for high school students and on a book about working with youth and inmates in state prisons.
Vasquez offered a piece of advice for SRJC students: "Never focus on the money when making decisions for life. Focus on what matters. Money doesn't mean happiness."
There is a saying if you do what you love you'll never work a day in your life, so when asked if he is happy with his job, Vasquez said, "Every day you have the opportunity to influence people, it brings responsibility and satisfaction when they are successful."