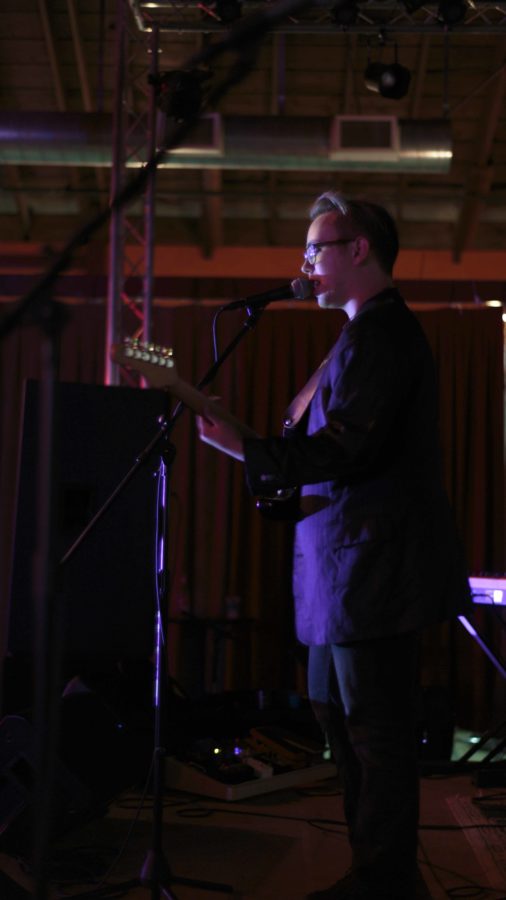 Jeanine Flaton-Buckley
Independent recording artist Jackson Rosenfeld of Supertaster performed at a CD release party in support of his new album "Life With Oxygen" Sept. 11 at 755 After Dark in Sebastopol.
Rosenfeld identified himself as a "supertaster," a clinical term for a person with an extremely heightened sense of taste, and now uses a fork to represent his musical brand. "I came up with Supertaster while considering changing my artist name, to a name that could eventually evolve into a band scenario," he said. "I decided it was a fitting approach to my music."
Adorned with a gold fork medallion around his neck, Rosenfeld mingled with the crowd before the show while tuning up a Fender Telecaster strapped to his body like an extra appendage.
As he waited quietly on stage, a Morgan Freeman-esque style voice narrated the humble beginnings of Supertaster's life. Projected on a makeshift screen on stage was a large graphic "S" representative of a superhero and his newest music video "Life in Motion," a story about his father, filmed in and around Sea Ranch and Bodega Bay.
Born from three years of songwriting and producing, "Life With Oxygen" is Rosenfeld's pride and joy. "I know this project will continue to evolve. It's the 'If you build it, they will come' mentality," he said.
"My influences have spanned a wide range of artists, mostly classic rock bands that were before my time," Rosenfeld said.
From Hall and Oates to the Red Hot Chili Peppers and everything in between, his musical influences are as eclectic as his own musical style. Not to be pigeonholed into any one genre he classifies his music as a hybrid of alternative, pop, rock, with a bit of hip-hop sprinkled on top.
"Jackson is an innovator," said Callie Dilbeck of local band The Frobeck Trio, who also performed at the CD release party. Her husband and fellow bandmate, Kris Dilbeck, engineered and co-produced Rosenfeld's new album.
"All his songs are layered with lush production and attention to detail. He's a Renaissance man for a new millennium, quirky and fun with many artful pursuits," she said.
Rosenfeld studied under the guidance of James "Jim" Helmer in the video ArtQuest program at Santa Rosa High School. Rosenfeld credits the program for his success in graduating high school. He moved onto Santa Rosa Junior College where he focused on filmmaking and multimedia-related arts.
He used the skills he attained at SRJC to design his website, brand his image, produce an album and create music videos.
"He's a really genuine talent, yet he treats those he works with with nothing but respect," said Miles Levin, an independent filmmaker from Sonoma County. Levin has collaborated with Rosenfeld in the past, most recently as the director of photography for the "Life in Motion" music video.
"Life With Oxygen" can be downloaded from iTunes or Spotify; CDs and 3D-printed fork flash drives designed by Rosenfeld in Autodesk are available by contacting him at his website, supertaster.co.
"Life in Motion," the official music video promoting the release of the album is available on YouTube at www.youtube.com/user/getjaxon.